Home | Call for Abstracts | Program | Pictures | Presentations| Location
Call for Abstracts
We are looking for short papers (max. 6 pages) and long papers (10-15 pages). Please submit your abstract (max. 300 words) until January 10th 2009 to c.kohls@iwm-kmrc.de
The date for notification of acceptance will be January 15th 2009. Authors of accepted papers are supposed to submit a first version of the full paper until the start of the workshop. The final version is due at May 31st 2009 and will be published in a book that documents the outcomes of the workshop. At least one of the authors of accepted papers is required to participate at the workshop.
We encourage you in particular to submit papers about the following topics:
Example Patterns (E-Learning and Pedagogical Patterns)
Reports on Pattern Collections and Pattern Languages
Experiences in Pattern Application
Methods of Pattern Mining
Social Processes in Finding, Mining and Writing Patterns
Evaluation and Validation of Patterns
The Relation of Patterns, Scripts and Instructional Methods
Pattern Languages and Taxonomies
Quality Standards
Strategies for Dissemination
Description formats
Discussions of Forces in the Field of Education
Other topics related to E-Learning Patterns and Pedagogical Patterns are welcome as well.

Program Committee
Univ.-Prof. Dr. Peter Baumgartner (Danube University Krems, Austria)
Joseph Bergin, Ph.D. (Pace University, New York City, USA)
Prof. Dr. Ulrike Cress (Knowledge Media Research Center, Tübingen, Germany)
Prof. i.K. Dr. Andreas Harrer (Catholic University Eichstätt-Ingoldstadt)
Dipl-Psy. Torsten Holmer (Upper Austria University of Applied Sciences, Austria)
Christian Kohls, MSc (Knowledge Media Research Center, Tübingen,Germany)
Yishay Mor, MSc (London Knowledge Lab, UK)
Univ.-Professor Dr. Helmut M. Niegemann (University of Erfurt, Germany)
Dr. Symeon Retalis (University of Piraeus, Greece)
Dr. Axel Schmolitzky (University of Hamburg, Germany)
Prof. Helen Sharp (Open University, UK)
Dr. Till Schümmer (Fernuniversität Hagen, Germany)
Dr. Joachim Wedekind (Knowledge Media Research Center, Tübingen, Germany)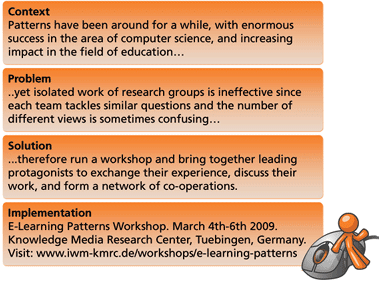 Important Dates:
January 10th 2009 Deadline Call for Abstracts
January 15th 2009 Notification of Acceptance
March 1st 2009 First paper version due
March 4th-6th 2009 Workshop
May 31th 2009 Final paper version due
July/August 2009 Publication of Workshop Book



For more information about the workshop, please contact Christian Kohls.
Mail: c.kohls(at)iwm-kmrc.de

Workshop Organization:
Christian Kohls, Joachim Wedekind,
e-teaching.org