Accommodation and Travel Information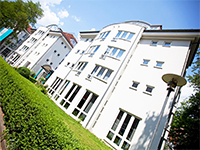 For accommodation we suggest the following hotel, which is located in the middle of Tübingen, not far from the main station. Also, it includes breakfast, WiFi, and some wellness services (e.g., a pool).
If you choose this hotel for your stay in Tübingen, please go ahead and book it by sending an email to the hotel. Make sure to mention the keyword "IWM" until February 11, 2014 and add your arrival and departure time.
Travel information
By air:
You can either fly to Stuttgart or Frankfurt/Main. There are trains commuting from Frankfurt (approx. 2,5 hours) and a bus from Stuttgart (50 min, departing approx. twice an hour). There are direct flights to Stuttgart from the USA, e.g. via Atlanta with Delta Airlines.
From Stuttgart please take the regional bus 828 to Tübingen. The station is located at the arrivals level (Terminal 1) directly infront oft he airport building. In Tübingen please get off at the main station. The hotel is in 5 min walking distance.
By train:
Your destination is Tübingen. From the main station, please take the same way to the Hotel as you can see in the following Map (A: main station, B: Hotel Domizil).