Innovative Digital Video Technologies for Collaborative Design Tasks in German Classes - Conditions for Effective Cooperation and Learning
Duration
April 2007 - March 2010
Funding
German Research Fundation (DFG)/ Interdisciplinary DFG-research group for empirical educational research "Orchestrating Computer-supported Processes of Learning and Instruction"
Website
Description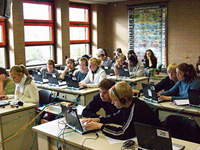 Innovative digital video technologies have augmented the spectrum of instructional video uses in the classroom. For example, they allow for new types of multimedia design tasks, such as the production of video and visual hypermedia. Current research suggests that such design tasks under certain conditions can advance active and collaborative student learning. Our research addresses the specific conditions necessary for effective collaboration and learning when students perform design tasks using digital video technologies in class. The goal was to examine the influences of technological constraints, students' media-related cognition and instruction on collaborative learning and achievement. Our working program included two experiments to study the impacts of digital (hyper)video technology in interaction with students' media-related concepts (Exp. 1), and teachers' instructional guidance (Exp. 2) on students' collaborative design efforts, their deep processing of the subject matter and their acquisition of literacy skills. Particularly, we focused on visual and digital literacy skills. Our research thus involved educational goals repeatedly emphasized in educational science that are part of the national education standards relevant for German schools.
Cooperations
Prof. Roy Pea, Stanford Center for Innovations in Learning (SCIL)
Prof. Josef Schrader, Institut für Erziehungswissenschaften an der Universität Tübingen
Publications
Zahn, C. (2009). Gestaltendes Lernen - "Learning by Design" im Schulunterricht. LOG IN Informatische Bildung in der Schule, 156, 27-35.
Zahn, C., Krauskopf, K., & Hesse, F.W. (2009). Video-Tools im Schulunterricht: Psychologisch-pädagogische Forschung zur Nutzung audiovisueller Medien. In M. Eibl, J. Kürsten, & M. Ritter (Eds.), Workshop Audiovisuelle Medien WAM 2009 (pp. 59-65). Chemnitz: Technische Universität.
Zahn, C., Krauskopf, K., Hesse, F.W., & Pea, R. (2009). Participation in knowledge building "revisited": Reflective discussion and information design with advanced digital video technology. In C. O'Malley, D. Suthers, P. Reimann, & A. Dimitracopoulou (Eds.), Computer Supported Collaborative Learning Practices: CSCSL Conference Proceedings (pp. 596-600). New Brunswick, NJ: International Society of the Learning Scienes (ISLS).
Zahn, C., Krauskopf, K., Hesse, F.W., & Pea, R. (accepted). Digital Video Tools in the Classroom: How to Support Meaningful Collaboration and Critical Advanced Thinking of Students? To appear in M.S. Khine & I.M. Saleh (Eds.): "New Science of Learning: Computers, Cognition and Collaboration in Education"