NEXT-TELL – Next Generation Teaching, Education and Learning for Life

Duration
09/2010 - 08/2014
Funding
European Union (within the 7th Framwork Programe)
Website
Description
NEXT-TELL investigates how digital media need to be designed in order to fit and serve the complex demands in pedagogical teaching-learning practices. Within the project, we develop online tools which support teaching and learning content-independently in relevant structures. NEXT-TELL seeks to support self-organized and individual learning by supporting processes reaching from lesson planning to formative feedback (see figure). With this background in mind the engaged participation of teachers and their schools is important.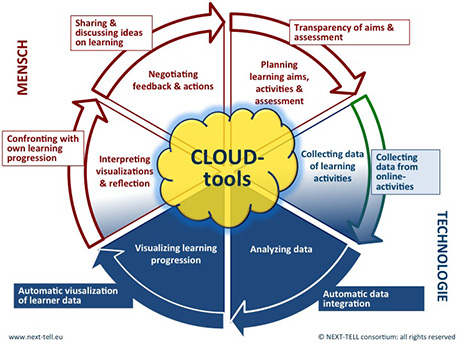 First results showed that teachers would like to be supported in lesson planning in a digital way. The pedagogical approach of evidence-based activity and assessment design (ECAAD) is, however, very uncommon to teachers. Thus, the visual planning tool has been extended with wizards which should lead through the planning process more clearly.
The idea of supporting a formative feedback culture with digital media like open learner models (OLM) is interesting for teachers. First experiences show how teachers first work on making their assessment system more transparent for their students. Communication between teachers and students as well as trust from both sides seem to be important first steps. This finding is in line with international research on assessment for learning. Students are also interested in the tool because they are not necessarily sure what they already master and what not. Moreover, they are interested in finding out how their self-assessments deviate from their teachers' assessments. Finally, the aspect of feed-forward is a critical component in the process. So far, the tool has been extended with different visualizations and verbal feedback options.
The NEXT-TELL consortium consists of twelve partners across seven European countries (see below). The role of the KMRC is to develop and coordinate the pedagocial-psychological research in line with the tool development.
Cooperations