Mobile Eyetracking in Museum Exhibitions
Duration
May 2007 - December 2008
Funding
Project "Learning in Museums: The Role of Media for the Recontextualisation of Objects"
Description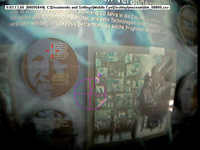 The project looked at the advantages and disadvantages of mobile devices in museums, especially the use of mobile eye tracking as methodical way for research in museum exhibitions. A mobile eye tracking system was used in the context of the laboratory exhibition "Nanodialogue" to determine its usefulness for data gathering in informal settings.
Publications
Mayr, E., Knipfer, K., & Wessel, D. (2009). In-sights into mobile learning: An exploration of mobile eye tracking methodology for learning in museums. In G. Vavoula, N. Pachler, & A. Kukulska-Hulme (Eds.), Researching mobile learning: Frameworks, tools and research designs (pp. 189-204). Oxford: Peter Lang.
Wessel, D., Mayr, E., & Knipfer, K. (2007). Re-viewing the museum visitors view. In G. N. Vavoula, A. Kukulska-Hulme, & N. Pachler (Eds.), Research methods in informal and mobile learning (pp. 17-23). London: WLE Centre.