Partner Knowledge Awareness for Collaborative Text Comprehension
Duration
June 2005 - May 2008
Funding
Virtual Ph.D. Program "Knowledge acquisition and knowledge exchange with new media" of the German Research Foundation (DFG)
Description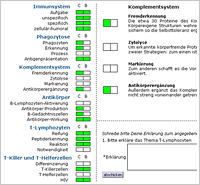 In this project we studied learning of hypertext material by knowledge communication. Information about a partner's knowledge is provided in the learning environment in order to establish partner knowledge awareness (= being informed about a partner's knowledge). Knowledge is subjectively assessed by learners themselves. Visualizations of knowledge are provided to collaboration partners. A first empirical study investigated how learners use visualizations of partner knowledge when producing contributions to knowledge communication. Learners were found to adapt their explanations and questions towards partner knowledge and adaptation was found to foster the acquisition of elaborated knowledge. A second study examined how visualizations of partner knowledge influence dyadic interaction and collaborative learning. Dyads benefited from partner knowledge awareness particularly when partners´ knowledge levels were highly divergent.
This doctoral project by Dr. Jessica Dehler has been completed.
Publications
Dehler, J., Bodemer, D., Buder, J., & Hesse, F. W. (in press). Guiding knowledge communication in CSCL via group knowledge awareness. Computers in Human Behavior. doi:10.1016/j.chb.2010.05.018. (1.7)
Dehler-Zufferey, J., Bodemer, D., Buder, J., & Hesse, F. W. (2011). Partner knowledge awareness in knowledge communication: Learning by adapting to the partner. The Journal of Experimental Education, 79, 102-125. (1.0)
Dehler, J., Bodemer, D., Buder, J. & Hesse, F. W. (2009). Providing group knowledge awareness in computer-supported collaborative learning: Insights into learning mechanisms. Research and Practice in Technology Enhanced Learning, 4, 111-132.