Use of Collective Knowledge through Social Tagging
Project description
How can social tagging support learning and the joint construction of knowledge? This project tries to answer these questions with experimental studies about the reception of tags and tag clouds.
Social tagging is the activity of individually annotating and classifying content (e.g., bookmarks, scientific articles, pictures or products) with keywords (tags). Individually given tags can be aggregated into tag clouds. In this way tag clouds can represent the conceptual knowledge of a community.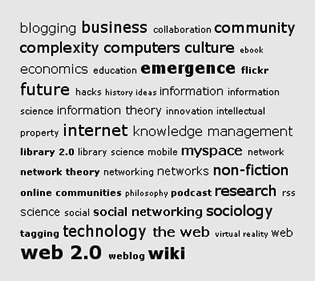 In the project we research if people use this collective knowledge when searching for information and if they gain new knowledge for themselves. First studies show that tag clouds can even reduce misconception of users.
The theoretical base of the studies is the Co-Evolution Model (Cress & Kimmerle, 2008) as well as the Information Foraging Theory (Pirolli & Card, 1999). We are especially interested in the influence of person characteristics (e.g., prior knowledge, epistemological beliefs, openness) and characteristics of the tag cloud (trustworthiness of the source.
Publications
Schweiger, S., Oeberst, A., & Cress, U. (2014). Confirmation bias in web-based search: A randomized online study on the effects of expert information and social tags on information search and evaluation. Journal of Medical Internet Research, 16(3), e94. doi:10.2196/jmir.3044.
Cress, U., & Held, C. (2013). Harnessing collective knowledge inherent in tag clouds. Journal of Computer-Assisted Learning, 29, 235-247. doi:10.1111/j.1365-2729.2012.00491.x.
Cress, U., Held, C., & Kimmerle, J. (2013). The collective knowledge of social tags: Direct and indirect influences on navigation, learning, and information processing. Computers & Education, 60, 59-73. doi:10.1016/j.compedu.2012.06.015.
Held, C., Kimmerle, J., & Cress, U. (2012). Learning by foraging: The impact of individual knowledge and social tags on web navigation processes. Computers in Human Behavior, 28, 34-40, doi:10.1016/j.chb.2011.08.008.
Kimmerle, J., Cress, U., & Held, C. (2010). The interplay between individual and collective knowledge: Technologies for organisational learning and knowledge building. Knowledge Management Research & Practice, 8, 33-44. doi:10.1057/kmrp.2009.36.