Duration
May 2011 to April 2014
Funding
Leibniz Association as part of the "Wettbewerbsfonds 2011"
Description
"Which story is shown in this painting?", "What kind of techniques did the artist use to accomplish this piece of art?", "Who commissioned the piece of art and what for?"
A lot of questions can come up during a visit to a museum. Up until now, these questions have been answered by so-called audio guides. Audio guides offer information on selected artworks in the form of spoken texts, but their possibilities are restricted to verbal information only. Also, the selection of artworks is determined by the curators in advance. As a result, visitors' specific questions and interests may not be met. To solve this problem, multimedia guides as focused on in the "EyeVisit"-Project might be helpful. These guides are able to meet the visitors' needs and interests adaptively and enable a vivid illustration of various pieces of information, e.g. by first showing sketches of the painting. It is therefore important that the multimedia guides are easy to understand and intuitively accessible to all different kinds of visitors, i.e. complicated control buttons should be avoided. Interactive displays as applied in smartphones and multitouchtables demonstrate a highly intuitive interface. These displays allow the user to manipulate pictorial representations like real objects with intuitive touch movements such as rotating, sliding or zooming.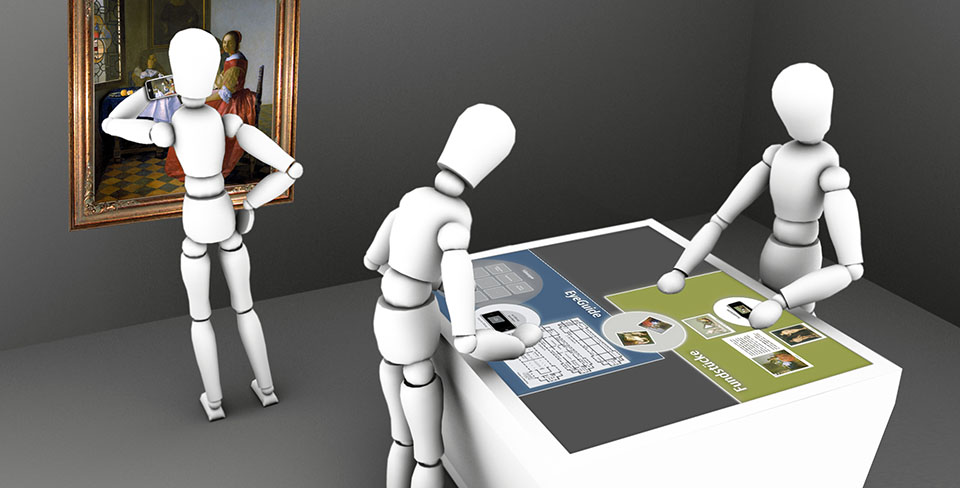 The main idea of this project is to combine a large, collaboratively usable multitouchtable, with iPhones, which can be used individually (see picture). The aim is to design this combination in a way that the visitor can retrieve specified information according to his interests before, during or after visiting the exhibition. For example, the visitor can get an overview of the exhibition at the beginning of the visit and then arrange a personalized guided tour through the exhibition (application "EyeGuide"). During the visit the visitor can mark his favourite art works with his iPhone in order to explore more detailed information on the selected oeuvres on the multitouchtable later on, e.g. other pieces of art by the same artist (application "Fundstücke"). A third application (EyeVideo) allows the user to take pictures of or film the artworks with the iPhone, in order to then use this material collaboratively at the multitouch table, e.g. for school assignments.
The project "EyeVisit" combines psychological research methods and findings of the Knowledge Media Research Center (KMRC) with technological development results of the Wilhelm-Schickard-Institute of Computer Sciences (WSI) at the University of Tübingen and makes them applicable in real-life situations. This project therefore serves as problem based and sustainable application of knowledge and technology at the interface of innovative media technology and psychological analyses of museum settings.
Cooperations