2019-06-04
|
Junior research group Social Media at international communication conference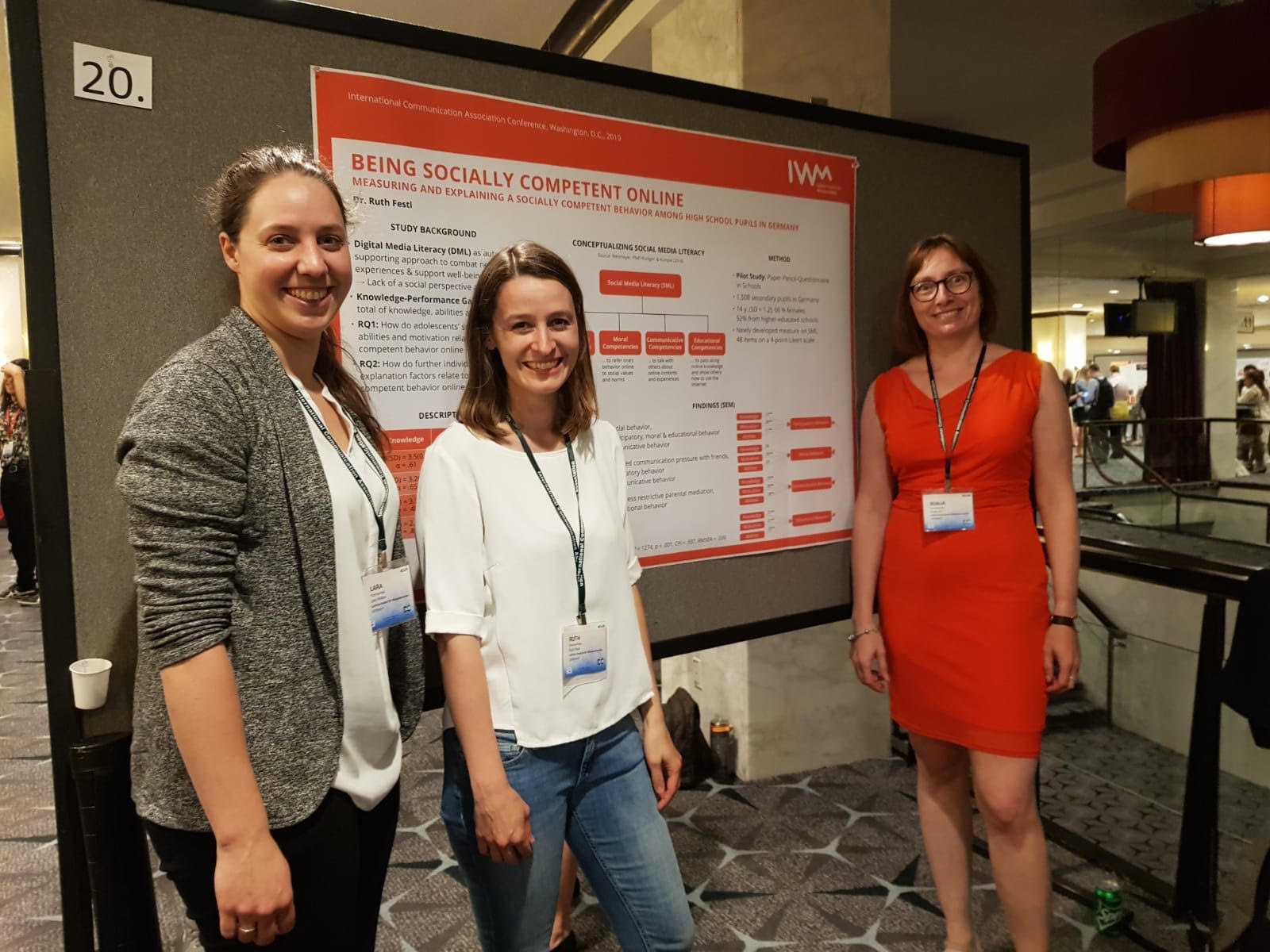 Every year, the International Communication Associations (ICA) invites researchers from all over the world to one of the most important conferences in the field of communication science. This year, more than 3000 experts met at the 69th ICA Conference in Washington D.C. from May 24 to 28, including scientists from the IWM.

"Our institute is becoming increasingly well known in the professional field. This is proof that the IWM has established itself with its psychological research in the world of communication science," reports Dr. Ruth Festl, scientist at the IWM. Together with Prof. Dr. Sonja Utz, head of the junior research group Social Media, and colleague Lara Wolfers, she informed the international audience about the research of the IWM. In a joint paper the scientists presented findings of a study on a new phenomenon in times of permanent smartphone use: Nomophobia (short for "no-mobile-phone-phobia"), the fear of being cut off from one's social environment and important information when not having a mobile phone. Nomophobia is often associated with situational stress according to one of the results. Yet, the effect did not replicate over a longer period of time.

The junior research group had submitted six papers prior to the conference all of which were included in the program. In other contributions the IWM scientists talked about relevant topics of digital media use such as excessive media consumption, online social competence and crisis communication as well as privacy and self-disclosure in online contexts. PhD student Lara Wolfers was also able to present her research on stress management through smartphone use in the coveted doctoral consortium. On the first conference day, 16 chosen doctoral students had the chance to discuss their dissertation topic with international experts and to ask question concerning their professional career after the dissertation.
Dr. Jürgen Buder from the Knowledge Exchange Lab represented the IWM in Washington as well.

---