2018-09-18
|
Start of the "Digital Learning Map – a database for digital media in higher education"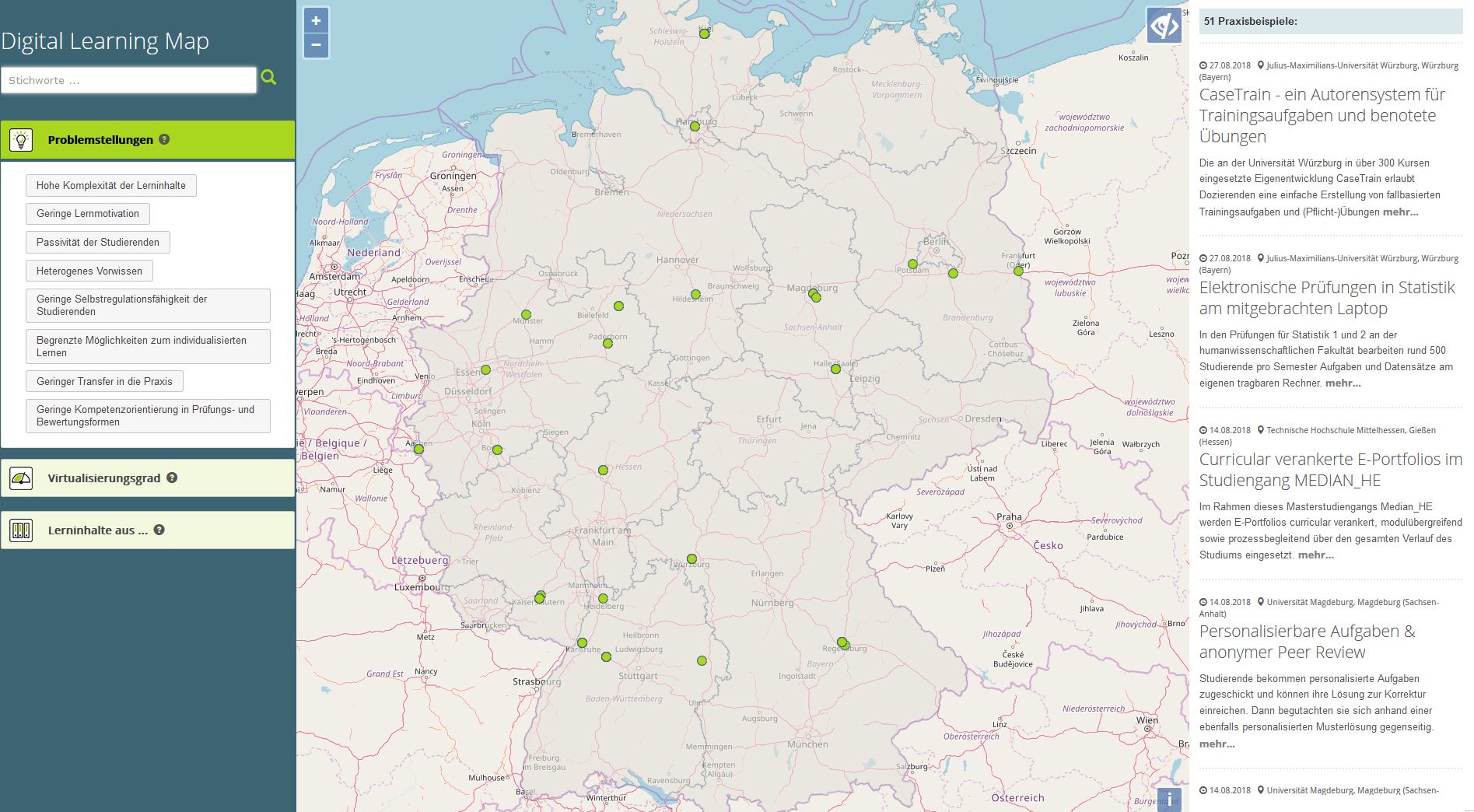 By now digital media have become an integral part of learning at most universities. Their use is versatile, ranging from interactive quizzes tracking learning progress to virtual classrooms or online lecture recordings to rework a course. These and other potential applications of digital media in higher education are from now on presented by the Digital Learning Map. 
The database Digital Learning Map was developed at the Leibniz-Institut für Wissensmedien (IWM) within the project LearnMap, funded by the by the Federal Ministry of Education and Research (BMBF) and in cooperation with the online portal e-teaching.org and the German Forum for Higher Education in the Digital Age.
The database features teaching and learning environments which apply digital media and are put to use by individuals or institutions. The practical examples from all over Germany uncover the variety of possible applications in academic teaching.
 
As of now, the interactive map of Germany is online and presents best practices. With just one click, teachers are able to gather ideas for new learning settings using digital media and learn from one another. The examples show how media is used didactically appropriate. Therefore, every example explains which media properties are used to enhance learning and solve certain issues of teaching, like poor motivation to learn.

The purpose of the database is to make practical knowledge of how to use digital media in higher education teaching available and demonstrate solutions for possible challenges. That stimulates an exchange of knowledge beyond the confines of individual higher education institutions or disciplinary borders. University instructors can use the database to draw inspiration, comment the practical examples and to establish contact. Service facilities can use the Digital Learning Map in their consulting activities. The Digital Learning Map is furthermore continually developed: University instructors are welcome to register their field-tested examples.
Link to the database (in German)

Further information on the research project (in German)
---